Back in the early days of babe channels and before Sexstation even became it's own thing, there was the origins of it all, LiveXXX.  As it says in the Babestation.tv blog about LiveXXX, this was one of the original subscription live sex shows and a major influence on all live babeshows that would follow it.
It also spawned Sexstation.  The story goes that LiveXXX started in 2005 on channel 911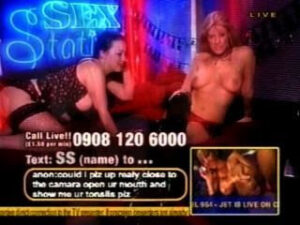 then moved to channel 910 and changed it's name to Sexstation.  Between 2006 and 2013 Sexstation would continue to put out shows even when LiveXXX came back on channel 957 in 2008.  Sextstation's output was mostly the same as LiveXXX with presenters taking naked phone sex calls.  The difference was while Sexstation also appearing on TV, from 2008 it also produced a hardcore web show, 7 days a week between 11pm and 5.30am, which was expanded to 24 hours a day by February 2011.  By 2013, all Sexstation shows ceased to broadcast on television but was putting out 3 streams on the web.
If you'd like to re-visit those early days of LiveXXX featuring Sexstation favourites such as Poppy Morgan, Tammy Oldham and Alicia Rhodes, check out this LiveXXX Orgy scene on Babestationtube.com the best place to find vintage clips and footage from early days Sexstation, LiveXXX and Babestation pay-per-view shows.
Check out this LiveXXX classic clip featuring filthy threesome action on babestationtube.