SEXSTATION ARCHIVE
Originally Posted: Wednesday, February 16th, 2011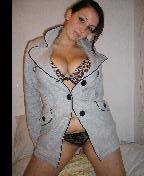 Jennys Cam
Amateur webcams are the new thing to be into guys, and if you haven't tried one out yet you really need to get online and try one of these babes.  Today's offering is Jenny (known on the service as Jenny756) and she comes to you from Manchester I think; can't be too sure.  She's one hell of a hot UK live sex cam babe and she's ready to do business on the phone.
Try babestation video for some of the cheekiest content around!
Looks.  Her look is perfect, like any top BS or S66 babe.  She looks like an overgrown sixth former and wrong for all the right reasons (incidentally, you can be sure that she is over 18!).  If you were to meet her in the street you would probably think that Jenny was an attractive girl and consider briefly what it would look like to stick your cock in her mouth perhaps (I'm not on my own here am I?), but when you get her live on webcam something changes.  The ordinary attractive girl disappears and what replaces her is a fucking sex crazed witch!  Jenny, may look innocent, but she certainly isn't.  Her look changes so much because she begins to move her body in very different ways like everything she touches or sees gives her the hots.  To see her arching her back and opening her mouth slightly when she answers the phone is something of a spectacle to say the least.
Do you like the hardcore porn? BSX provides!
Action.  As I've briefly covered, Jenny really turns it on when she's on cam, but what does she do?   It would be much easier to tell you what she won't do: Nothing!  There are girls who you really like the look of and they tease you something awful, but with Jenny you won't get any of that shit; it's kit off dildos out straight away my friends.
Audio and Visual Quality.  Well Party Chat can't always monitor all the girls cam equipment, they just expect them to be up to scratch, and whilst Jenny has had a few problems in the past with her sound, she seems to have rectified this (yes I've seen her more than once!)  She sounds like an angel on MDMA when you speak to her and her video quality is great when she's got the curtains pulled.
Check out more pics and vids in the Babestation VIP members area, updates regularly!
So why not take a trip across to see her FREE live profile and connect when you're ready.  Remember that you don't need credit cards or any of that shit, you can just connect through your phone without any trouble at all.