Clare Richards has been voted the all-time S66cams Babe show Queen pipping out Rebecca Kelly in the vote by members of the popular babeshows.co.uk forum. Clare Richards made her debut on EliteTv daytime on Tuesday 27th September 2011 morning show. Clare had been working as a model and had appeared on the famous page 3 in the Sun newspaper and had previously been in the lads mags.
In this post, one of the members posts their memories of a Studio66TV live babe show way back in 2013 starring Clare.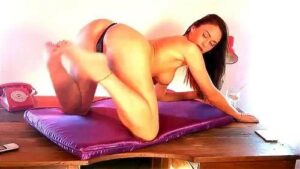 "In the early hours of the morning of 12th January 2013 two stints of the most incredible quality, sensuality and raw sexual power took hold of my senses."
The build up had been relatively unsuspecting.
Clare Richards was teasing remorselessly with her blend of imperiously steamy body language and powerful gaze from her mesmerizing eyes.
She looked typically stunning in her lingerie and black stockings.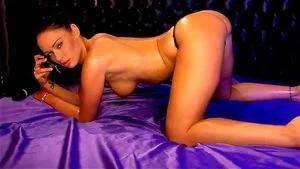 To see items of clothing disappear from her curves was not unusual by this point but as the night wore on an electricity was in the air. A palpable sense of 'Will she?' 'Could tonight be the night?' 'Is something incredible about to happen?' 'Are all our nightshow dreams about to come true?'
Suddenly out came the oil and she was stripped down to just her tiny thong.
Hearts were pounding, pulses were racing, countless pairs of eyes were no doubt utterly transfixed on the heavenly vision before them.
Then the moment that even holy grail would buckle in the face of.
A totally naked and drenched in oil Clare Richards.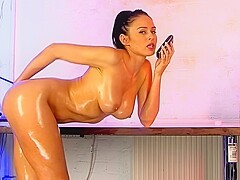 In this era of course, Snooks was fully in his calling element.
A leap to the phone in prayer that connection to her could be swift.
It duly was. Time to take FULL advantage.
Snooks intended to maneuver her slowly this way and that but in truth did not need to instruct her. As he erupted into a relentless cacophony of raw filth Clare responded in kind. She slowly twisted and turned so gracefully and she effortlessly glided both hands over her flawless body. Every position, every pose delivered with such feeling, such desire, such authority. Snooks completely lost in a world of pleasure as more and more lustful words gushed down the phone to an insatiable Clare.
By the time the call ended poor old Snooks was in a daze.
A little while later though Clare was back on screen.
In the shower set, as if to provoke a responsive thought 'FFS Clare you are trying to finish me'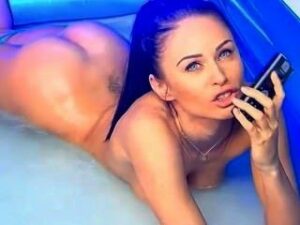 2013 UK Babeshows
These were the days before pervcam when the shows were just about sexy phone sex. In that period there was a lot of competition between the babe channels, Red Light Central was very strong from their bristol studios. Had the best sets whilst Studio66Tv had their classic day show and nighttime rosters.
S66Cams – All Time Queen
Clare Richards – Vital Statistics
Born: Sunday 10th of April 1988

Birthplace: Bury St. Edmunds

Hair colour: Black

Eye colour: Blue

Height: 5'6″ (or 167 cm)

Measurements: 32/24/36

Bra/cup size: D

Boobs: Real/Natural

Tattoos: Lower back; bow on inside of right wrist; loop around right ankle